---
Last Week in Review:
The Jobs Report for April is in, but what did the news reveal
Forecast for the Week:
A quiet week is ahead, but an important inflation report
View:
If you've ever forgotten the name of an important colleague or client, have
no fear. These tips can help.
---
Take this job and
love
it.
And the Labor Department's Jobs Report for April showed
that fewer than expected people are able to do this, as fewer than expected jobs
were created. Read on for details and what they mean for home loan rates.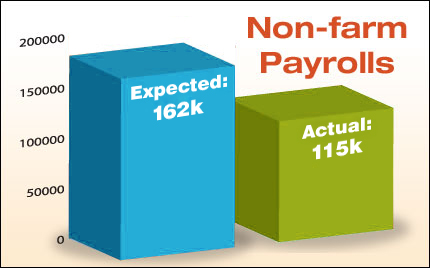 The Jobs Report showed that
115,000 jobs were created in
April, with 130,000 private
government job losses. This
number was a disappointment
and below expectations. The only
silver lining in the report were
upward revisions to the previous
month's readings which added
53,000 more jobs than what was
The unemployment rate dropped a tick to 8.1% — the lowest since January 2009.
However, the decline was mainly due to the labor force shrinking by 300,000,
rather than by robust job growth. And as expected, we are starting to hear more
and more about the Labor Force Participation Rate (LFPR). The LFPR dropped to
63.6, the lowest ratio since December 1981. Why is this important? The LFPR gives
us a clear read of who is working and who is not. And if someone is not participating
, then they are probably receiving some sort of social security or unemployment
insurance. The bottom line is that it is tough to pay down debt when there are not
enough people participating in the labor force.
Overall the Jobs Report was underwhelming and, unfortunately, further accommodative
monetary policy or even more Bond buying (known as Quantitative Easing or QE3)
will have a very limited effect on job growth. What's more, the debt drama in Europe
continues to escalate, as both Italy and Germany reported higher than expected
unemployment rates, while Spain has slipped into its second recession since the
The events in Europe and potential softening of our economy have resulted
in home loan rates remaining near historic lows. That means now continues
to be a great time to purchase or refinance a home. Let me know if I can answer
any questions at all for you or your clients.
---
Chart: Fannie Mae 3.5% Mortgage Bond (Friday May 04, 2012)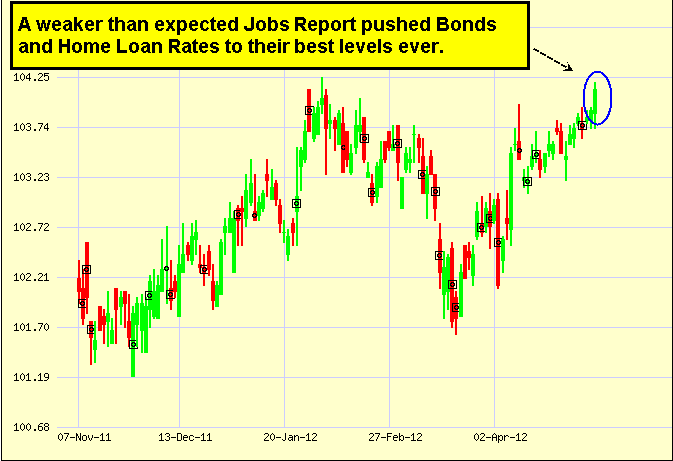 After two weeks featuring a slew of economic reports, this week's calendar is light. But that doesn't mean there won't be a battle for investing dollars in the Stock and Bond markets!
The first report won't be released until Thursday with the weekly

Initial Jobless Claims

report. Last week, claims fell by 27,000, which was the largest weekly decline since May 2011.
On Friday, inflation at the wholesale level will be released in the form of the Producer Price Index (PPI). Last week it was reported that the year-over-year Core Personal Consumption Expenditures (PCE) rose to 2%, the high end of the Fed's range.
The last report on Friday will be the first reading on Consumer Sentiment for May.
With so few economic reports this week, market players will be focusing in on the ongoing debt crisis in Europe, earnings reports and how the $66 Billion in Treasury Notes and Bonds will be received. All three of those news items could move Bonds and home loan rates this week.
Remember: Weak economic news normally causes money to flow out of Stocks and into Bonds, helping Bonds and home loan rates improve, while strong economic news normally has the opposite result. The chart below shows Mortgage Backed Securities (MBS), which are the type of Bond that home loan rates are based on.
When you see these Bond prices moving higher, it means home loan rates are improving — and when they are moving lower, home loan rates are getting worse.
To go one step further — a red "candle" means that MBS worsened during the day, while a green "candle" means MBS improved during the day. Depending on how dramatic the changes were on any given day, this can cause rate changes throughout the day, as well as on the rate sheets we start with each morning.
As you can see in the chart below, Bonds and home loan rates reached record best levels after last week's Jobs Report. I'll be monitoring the markets closely this week to see what happens next.
The Mortgage Market Guide View...

---
It Pays to Have a Good Memory
In today's housing market, it can pay (quite literally) to have a good memory. That's because a good memory can help you stand out from the competition — especially when you're networking and trying to remember names.
Unfortunately, many of us have trouble remembering the name of someone two minutes after we shake her hand. If that sounds like you, don't worry… you're not alone. It's actually an extremely common occurrence for many people. The good news is there are a number of simple, practical steps you can take to improve your memory now and long into the future. Here are just two of the great tips for proactively strengthening your memory.
Tip #1: Neurobic Exercise
You know all about the wonderful effects aerobic exercise has on the heart, but have you heard of neurobic exercise for the brain?
According to Lawrence Katz, co-author of

Keep Your Brain Alive: 83 Neurobic Exercises

, the best exercise for the brain is to force it to form "new patterns of association" or new pathways. In other words, challenge your brain every day. Take it off autopilot and make it relearn or create new associations with the most routine activities of your day.
Katz's book offers numerous examples of small changes you can make to activate your brain, including: brushing your teeth with the other hand; taking an alternative route to work; moving your wastebasket to the other side of your desk; closing your eyes while putting your key in and unlocking the front door; and changing where you and your family members sit at the dinner table.
So if you feel like your memory might be starting to slip a bit, try some of these simple neurobic exercises today!
Tip #2: Mnemonic Drilling
There are actually three steps or stages of memorization: acquisition, consolidation, and retrieval. That means, once we acquire new information, like someone's name for instance, the way in which we consolidate that data will directly affect how well we're able to retrieve it from memory.
Whether you're a visual or auditory type of learner, there are many mnemonic devices that can help you to better organize or consolidate the new information that you need to recall.
Here's an example of simple steps that might help:
First, associate the data you want to remember with common images. For instance, let's say you meet someone named Jennifer Green. Imagine Jennifer playing golf, or picture her wearing all green clothes, or imagine her face painted completely green.
Second, think of associations you can use to help you remember this person. For instance, link Jennifer to the quality that best fits her personality (use alliteration and rhymes whenever possible): Jolly Jennifer Green.
Finally, connect sound to your memory by saying the name aloud.
Do this regularly and, before you know it, you'll never forget anyone's name again! And that can give you a nice advantage in networking and communicating with clients!
Economic Calendar for the Week of May 07 - May 11
| | | | | | | | |
| --- | --- | --- | --- | --- | --- | --- | --- |
| | | | | | | | |
| | | | | | | | |
| | | Producer Price Index (PPI) | | | | | |
| | | Core Producer Price Index (PPI) | | | | | |
| | | Consumer Sentiment Index (UoM) | | | | | |
The material contained in this newsletter is provided by a third party to real estate, financial services and other professionals only for their use and the use of their clients. The material provided is for informational and educational purposes only and should not be construed as investment and/or mortgage advice. Although the material is deemed to be accurate and reliable, we do not make any representations as to its accuracy or completeness and as a result, there is no guarantee it is without errors.
As your mortgage professional, I am sending you the MMG WEEKLY because I am committed to keeping you updated on the economic events that impact interest rates and how they may affect you.
is the copyright owner or licensee of the content and/or information in this email, unless otherwise indicated. does not grant to you a license to any content, features or materials in this email. You may not distribute, download, or save a copy of any of the content or screens except as otherwise provided in our Terms and Conditions of Membership, for any purpose.